Download THE Team Manager Handbook HERE!

Team Manager Portal
Welcome aboard! Thank you for volunteering to be a Team Manager. You play an important role in keeping our system timely and accurate. With the combination of your web portal and The CSL App you can manage your roster, report game results and rate referees and opposing teams. Lots more too!

First, if you don't have it yet, download the CSL App. When completing your profile select Team Manager as your role and enter your Mobile Access Code (MAC).

Once that's done you will see Team Manager on your menu along with the many options available to keep your team profile current. Here are some hints on how to use The App, just in case. In addition, help VIDEOS can be found HERE too.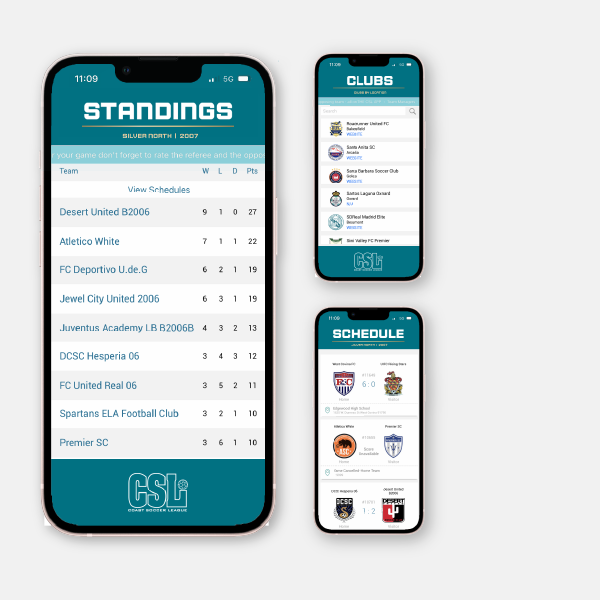 Let's Use The App!
manage your team using these functionalities within the app
Score Reporting
After each game click SCOREKEEPING and enter the number of goals for each team and the number of referees, You will then be prompted to touch yellow, double yellow or read for the players and coaches who received cards for each team. When you submit the info, standings and scores are updated immediately on web and app. If the referee or opposing team manager entered results before you, you will get a message indicating that they were faster than you!

If you made an error or see an error in any game result please email scores@coastsoccer.com with corrections and the game number. On Monday and Tuesday afternoons you will receive a notification through the CSL App If scores have not been recorded for your game.

Ratings
Enter Ratings for the opposing team and referee before Wednesday the after your game.

From your Team Manager menu select Ratings. Select your game and then choose the star rating for each statement about the referee who officiated your game. One star is strongly disagree, Five stars is strongly agree. Touch continue and do the same for the opposing team.

On Monday and Tuesday afternoons you will receive a notification through the CSL App If ratings have not been completed for your game.

Send Match Reports
You will receive Match Reports for weekend games via email on Friday mornings. They can also be downloaded from your web portal. To receive an additional copy, select Match Reports from your Team Manager menu. Choose the game and enter the email address. Touch Send. The Match Report will be sent right away.

Edit Your Team
In this section you can upload your team photo. It displays on your Team Profile on The App and on coastsoccer.com on your Standings and Roster Pages. In addition, this is where you manage your players, coaches and manager info. To add or change your team photo, select Edit Team from your Team Manager menu. Touch the camera icon. Select the photo from your library. Adjust your team photo is the frame and touch the CROP button in the upper right of the screen.

League Cup Registration
In mid September a League Cup item will appear on your menu. You must click YES if you want to participate in League Cup. You will receive more info about League Cup participation early in the season.

Messaging
You can send a message to anyone who is following your team in MY TEAMS. It will arrive as a pop-up on their devices and remain on their News Feed for 72 hours or until they delete it.

Let The Parents On Your Team know about the CSL App!

It's the easiest way to get schedules, directions, standings and more. Good luck and have a fun season!